Spring has sprung here in fair Ohio. Typically, Ohio takes us from 40 degree weather directly to the 80s and above for the duration of spring, summer, and fall, but this year we are being blessed with a true spring.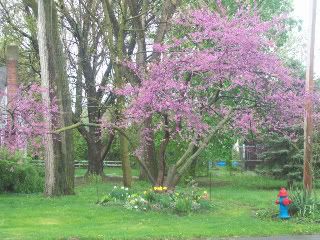 My meighbor's red bud. I love its sculptural quality and those purple buds have always been my sign that spring has finally arrived.
I spent most of the day yesterday cleaning out the bed in front of my living room. The amount of weeding that I have to do it tremendous with a capital T. One year with a newborn and another year of general apathy about life have led to weed patches that would make my green thumbed ancestors roll in their graves. Did you know that vinegar was a great weed killer? I've always tried to maintain as organic a garden as possible, and
here is a great article
on eHow.com on how to use vinegar effectively.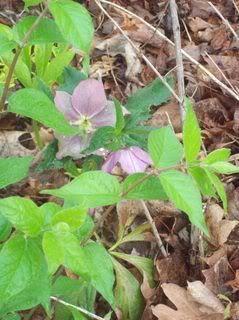 A helebore peeking out from behind a bush honeysuckle, one of the noxious weeds I have to remove all over the garden.
A word about my caption. In case you are agast that I am destroying honeysuckle bushes all over my property, just know that bush honeysuckle is classified as an
invasive weed
in the state of Ohio. It is not the yummy, float to heaven smelling honeysuckle that you are thinking of. It is an evil, evil, no-smell monster weed.
So all the weeding led to a trip to
Dutch Mill Greenhouse
, a wonderful place that offers bareroot perennials starting at 99 cents a piece. I was able to pick up specialty perennial geraniums, siberian iris, and bugbane (which I have been looking everywhere for) - plus a few other plants - for next to nothing.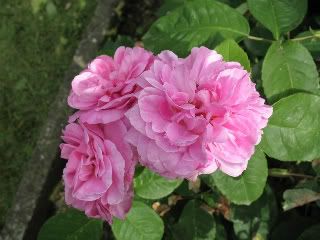 The Gertrude Jekyll is probably my favorite rose in my garden. It has a heady, rosy-myrrh smell, gorgeous blooms, and requires very little care. Gertrude Jekyll is just one of the many beautiful English Hybrids by David Austin.
In the past, I have ordered all of my roses from
David Austin Roses
who hybiridze the most beautiful roses in the entire world. Check out the web page. Unfortunately, they aren't cheap, so this year I bought a mystery tea rose at Wal-Mart for $4. Another site I love is
Crocus
, an English garden supplier with every plant and garden accessory that you could possibly think of. I go to it and dream.
So I think I'm getting a little rambly and wistful (David Austin roses do that to me - really - a happy day is when the annual catalogue arrives in the mail). Today will include more weeding, transplanting, and garden recovery. My ultimate goal is to have the most beautiful cottage garden in Ohio (o.k., maybe Marysville).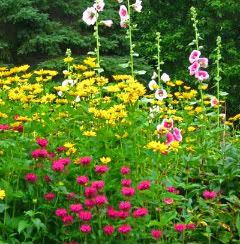 Spring is here! Happy gardening!