Bad Day For a Yard Sale
We're having a three day yard sale; today was day #2. Yesterday in Central Ohio was in the 70's and BEAUTIFUL! Lots of people were out yard saleing. We made out quite well and still had tons to sell. Today was in the 50's and wet and rainy. Only the die-hards come out on days like this. I sat cold and wet in the garage for large amounts of time with no action. We didn't do as well. But I did get to knit!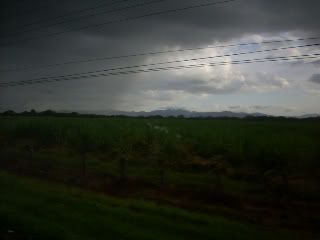 I'm Using Circulars!
Yesterday I cast on some 100% undyed wool for a hat. 128 stitches cast on, Multiple (with a capital "M") errors later, I pulled out all of my work and decided to start over. The dpn's that I was using were too short and I kept dropping stitches the first time around, so I decided to bite the bullet and use a circular. Alas, it is no Addi Turbo. There is not a good join and I have to stop often to pull more stitches onto the needle. But I'm knitting after a 2 week absence and it feel good to be knitting when you haven't done it for a while. I'm using a cable pattern that I designed that is continuous around the hat and I'm hoping that I got my cast on correct as this will affect whether the pattern actually works. Updates later!