Competition Day
So today Kendall skated two programs in an Ice Skating Institute (ISI) sanctioned competition in Newark, OH (for those of you not from Ohio, this is pronounced "Nerk" - well, not really, but this is what some people say). Her first program was a Light Entertainment Spotlight skate in which she performed to "Thriller." She had the Thriller jacket, zombie make-up (which I did, and I thought she looked more like Commando than a zombie). Anyhow, she did a FANTASTIC job, and won a gold medal.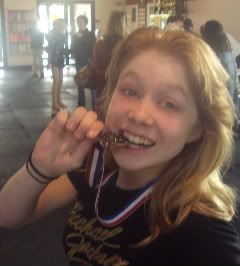 I got to do '80's hair and make-up for her "Flashdance" routine. I had to channel high school ratting and super purple eyeshadow application. I was wishing that we had some shocking pink blush, but we didn't, and that may have taken things too far. Also, if we had a can of Aquanet or Miss Clairol I could have gotten the hair MUCH higher, but I think the effect was pretty damn good.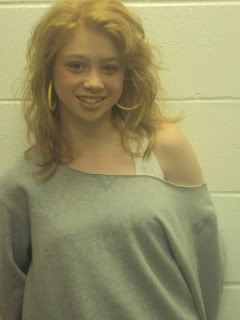 Yes, that's the sweatshirt I cut a few days ago. Awesome, I know.
Kendall came in second for her Flashdance routine, and I'm wondering if it was the outfit that brought her down as all of the other girls had pretty figure skating dresses and she was channeling Linda, Robbie's ex-fiance in "The Wedding Singer." Anyhow, I thought she did wonderfully, and I hope to have video to show you soon.
Chicken Piccata That Wasn't Piccataey Enough
Tonight is leftover night, and the choices are tuna casserole, spaghetti, and chicken piccata. I opted for tuna casserole. Wasn't too thrilled with the chicken piccata; it was made with the Macaroni Grill kit and I was sure it would be awesome as I really like the chicken marsala kit. The chicken piccata just wasn't lemony. I was wishing I had a lemon to ream to add to the sauce. But I didn't. It wasn't bad, it just wasn't piccataey enough. Next time I get the urge to make chicken piccata, I just think I'll do it the old fashioned way.
Have a few balls of lace weight cotton to make into skeins. In fact, have a lot of skeins to wind. Havent' had a sale yet, but I remain hopeful that if I keep adding inventory, eventually someone will love my store and then I'll be the queen of recycled yarn.