All I've been doing lately is dimantling sweaters, shopping for sweaters, washing yarn, making skeins, etc. These would all be posted on my etsy store,
Howard Knits
, if my little William weren't a budding photographer and used up all of the battery life on my camera.
Life from the perspective of a 2 year old
So what to write about? I was wondering what to make for dinner and started thinking about Hamburger Helper, specifically Beefy Pasta, and how much I love it. And I realized that this would be incredibly shocking and almost something to keep a secret on a site where I talk about cooking. Sort of like a confession. Then I wondered if there were more things that I needed to confess to my extremely small readership. This is what I came up with.
1. I own Barry Manilow records (yes, records) and listen to them. Oh, and I LOVE The Carpenters.
2 I have a celebrity crush on Eddie Veder. I just wish he knew how to coordinate his clothing a little better.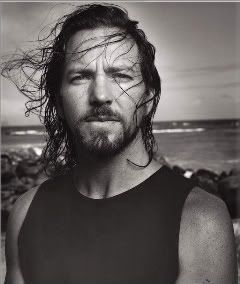 Gratuitous Eddie Veder photo. Mmm hmm, that's right.
3. Sometimes I let William yell a little longer than a second so that I can sleep a little longer in the morning. I am a terrible mother!
4. I don't like circular needles. They simply disrupt the natural order of things.
5. I have eaten an entire package of Oreos. I no longer buy them. Their siren song haunts me.
Actually, these confessions aren't really that exciting. I have no bodies along my life's trail, and I'm a ridiculous goody-two-shoes. Maybe I should go out and rob a bank or something. For now, I think I'll just stick to playing my Carpenters 45's on my Stack-O-Matic.