When I was a child, I has what was easily my favorite item of clothing ever. It was a
Twiddlebugs
dress that I got when it was knee length and had to give up wearing when it was shirt length and wouldn't go over my head anymore. I also love Mr. Rogers, and a shining moment of my life was getting to hold King Friday and meet The Purple Panda. As an adult, I am captivated by Planet Earth, watch Collin Firth jump into that lake in "Pride and Prejudice" and still have my VHS recording of Ken Burns' "The Civil War." These moments were all make possible by PBS.
On February 19, 2011, the House of Representatives voted to cut all Federal spending on Public Broadcasting. H.R.1 now faces the Senate. If passed, this measure would place a tremendous burden on Public Broadcasting and many rural stations would be forced to limit programming or go off of the air.

It is estimated that 170 million Americans, or 55% or the population, regularly view PBS. I would take that further and say that I believe that there is no American - not one - that hasn't been affected by PBS in some way, even if it's just because they love to hate Barney. It is a part of our culture. In 2010, Americans rated public broadcasting as an "excellent" use of taxpayer dollars, second only to defense spending. 80% of those polled said funding for public broadcasting is money "well spent. Roughly 14% of a stations funding comes from government grants and funding; this amounts to less than $2.00 per American.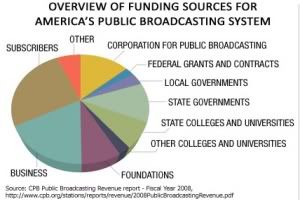 Please join me in supporting
170 Million Americans for Public Broadcasting
, a campaign funded solely through public dollars. Make your voice heard, and keep programming such as Nova, Masterpiece Theater, Mystery, Sesame Street, and Word Girl (not to mention Public Radio shows like Car Talk, Prairie Home Companion, and Whadd'ya Know) on the air. Join other bloggers like Jen of
grainline
and me and get the word out. Don't let PBS die.