1. I've been doing a tremendous amount of knitting. I never learned how to hold the yarn correctly and I throw the yarn with my thumb and index finger Continental style which has resulted in a monster case of tendonitis in my left pinkie finger. I have just convinced myself tonight that (a) I need to hold the yarn correctly and (b) I must go on a restorative yarn hiatus. Oh, and typing hurts, too, but I had to post!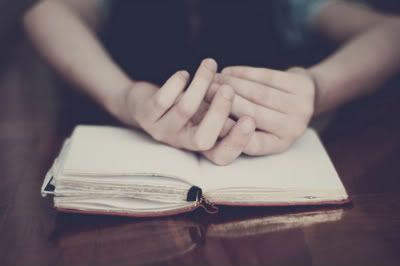 2. I've been tackling the former dining room, then Collin's room, with totally destroyed carpeting and really bad walls room. The carpet has been torn up except for a little patch of 50 year old berber (which will come up tomorrow) that was under a bunch of furniture. The carpet pad disintegrates when pulled up, which makes for a lovely mess, but the carpet has long needed to come up. Bye Bye Berber!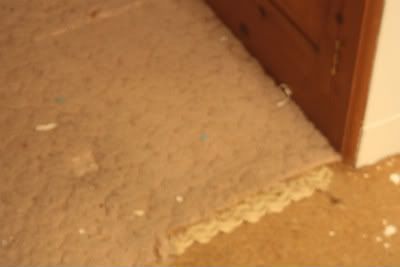 The last little pathetically nasty piece of berber carpeting
I've painted the walls a lovely robin's egg blue (which I am proud to say that I mixed myself using left over paint and those little paint samples to tint what I already had).
OH, and I NEVER thought I would do this, as I'm all about maintaining the original beauty of a vintage house, but I painted the paneling in the room (I'm still sort of gasping as I type this, even though I LOVE the way it came out).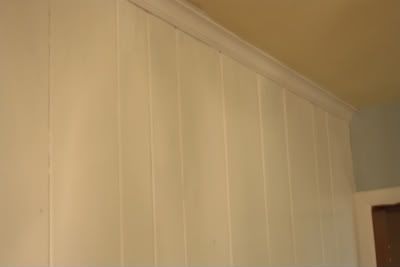 Here's the paneling in the living room for some comparison.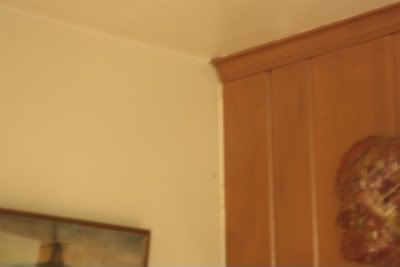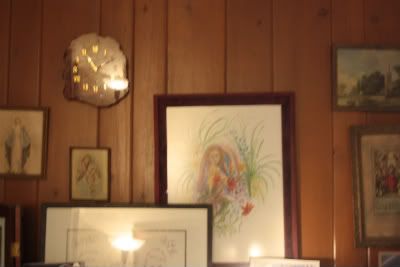 It's dated and dark, and painting it white brightened up the room so much it was totally unbelievable, but the paneling is also this gorgeous knotty pine. Really pretty; it makes people sort of gasp when they see it because you rarely see paneling of this quality in houses anymore. But I bit the bullet and painted over it in the dining room.
I still have to paint the floor, find a new ceiling fixture (there's a groovy one at Ikea that I like, but our nearest Ikea is 100 miles away (Ikea, why haven't you placed a store in Columbus, OH? Oh, and would delivery kill you?)) And I have an idea for floor pillows that are made crazy quilt style using old sweaters that I steak and sew together and then do one of those cool embroidery stitches on, but I'll do those after I get the room done. Hmmm, so I think that's about it. That's the news, Walter Kronkite!