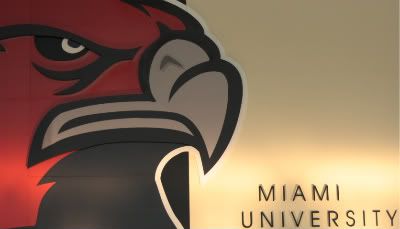 Yesterday was a great skating day. Miami's skating center is phenomenal, easily the nicest place we have ever attended a meet. The main arena had complete arena seating; this was the first time Kendall had competed in such an impressive setting.
Her skate went beautifully. She skated to instrumental music from Pocohontas and had many new elements in her program that she was nervous about. Something happens to her when she competes, though. Any hesitation or weak bits of her program seem to dissolve and she turns into a graceful swan. The funny thing that I've found about most skaters is that they seem to stumble around on dry ground but on the ice they glide as if on air. Those competing against her were also great and I didn't envy the judges their decision.
Another nice part of the day was that Kendall is now skating in a new age class (17 - 21). While still competitive, a part of the cut throat, "must win at all costs" element was gone and it turned competing into a more joyful experience. The people in this age class and the adult class seem to be supportive of each other and know that skating is about joy, not so much killing off the competition. Really refreshing.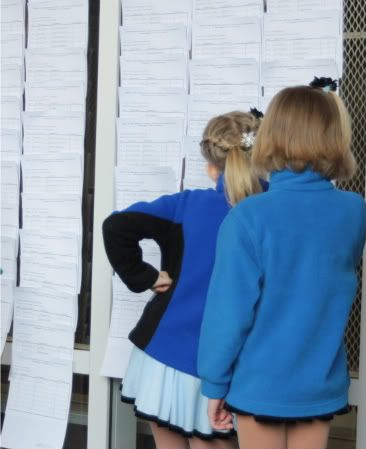 So after the skate comes the wait. Parents and skaters hang out around the results postings waiting for the results of their class to appear. It is a hive of activity as skaters check their scores and those of the other members of their skate club.
You can tell from her expression how Kendall placed. I was so proud of her. She skated the more beautifully today than I have ever seen her skate. On top of that, I played coach today, sent her onto the ice, giving her the pre-ice pep talk and advice. I've never been able to do that, and I have to say that it made the experience all the more special for me, too, as I stood in the coaches area mumbling to myself as she skated ("slow down, Kendall. Okay, now hold that spiral, stretch it out! . . .") and being the one that got to tell her that she did a wonderful job before anyone else could.
I will tell you that there are times that being a skate mom can be trying - the constant practices, having to deal with uber-skate mom egos - but today was sheer bliss. My girl is one fine skater.