Say hello to Frankie, who joined our household 3 months ago. Kendall found him in the park across from our house (a well known stray cat haunt), brought him home, and Swore she would find him a new home. Well, that was three months ago. So I guess he's here to stay.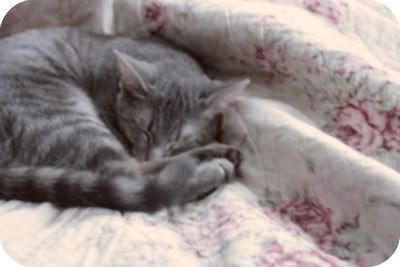 William can't say "Frankie" and calls him Quickie. I think his name is slowly morphing to Quickie because William talks about him all of the time. And devils him by picking him up and walking around with him in that sack-of-potatoes sort of way.
I love him. He lays on my chest and purrs like a motorboat. He is gorgeous. What you can't see in the photo is that his stripes aren't dark and light grey, but dark grey and a sort of light peachy-tan. He has a perfect M on his forehead, dots on his belly, and his eyes are lined in that pretty tan. He follows me around constantly, gives me the look of love, and talks to me when he has something important to say. All of the other cats are Huge, but he's a nice little compact size. And he's a lap cat sweetheart.
He is also completely smitten with Tim. Now Tim, being a manly dog person has never encountered this and is alternately tickled and annoyed with Frankie. One of his favorite spots in nestled in Tim's legs.
So that's Quickie, or Frankie, our newest addition to the zoo.