I've been getting requests for pictures of my painting job at my mom's condo. Well, here you go!
This is what the walls looked like before I painted them (this is the dining area and I haven't painted it yet, but it will be the darker green color in the next picture).
Get out your banana clip and neon sack dress, cuz it's the eighties!

Here's the new colors. The darker color is called "Kiwi Kissed" and the lighter is "Falling Stars" (I think). The baseboards are "Cookie Crumb." The paint is Olympic Premium Interior Latex, satin finish (it was on sale at Lowe's).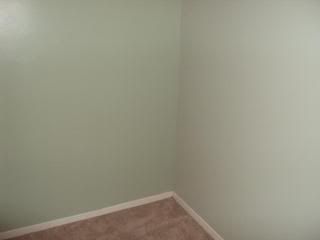 The colors aren't quite right in this picture, but it shows the ceiling that I worked SO HARD on!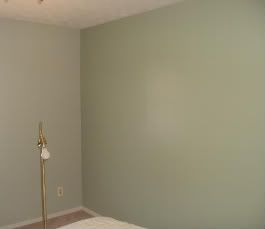 Here is the other bedroom, which mom is going to make into a TV/guest room. I have to go over this one with another coat in a few places, but you can't tell from the photo! The color is called "Silk Sails." I like that one.
And finally, here's a duck and a drake that apparently live under the pine tree by my mom's condo. They did'nt like to have their photo taken, so they turned their backs on me. Ducklings pictures soon, I'll bet!