So I now have a header, and a beautiful one that I will be marrying this summer. It will be an outside wedding. K.

On to other news, my mom gave me an early Easter gift of a deep fryer. I've wanted a deep fryer for some time. We are trying to spend less money and I am cooking more and more. But we crave french fried, nuggets, fried fish, etc. So today what deep fryer madness day, and it was ALL GOOD.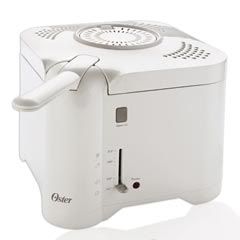 Oster 2.5L Cool Touch Deep Fryer = Where have you Been All of My Life?

Tonight, I cut fries for french fries (didn't rinse them first, which I've learned makes crispier fries - they were still amazing). I bought some breaded perch, clams, and butterfly shrimp with a gift certificate I had from Barry's Perch and More here in Marysville and we has a Fisherman's Feast. It was SO SO good. I love fish. I am 3/4 Irish - doesn't fish course through Irish blood?

I was on recipezaar today looking at all of the fried food recipes. Deep fried Oreos, Mars bars, mushrooms, not to mention funnel cake, elephant ears, onion rings, I could go on. I just lost 15 pounds - I think my family might be 400# by the end of the year.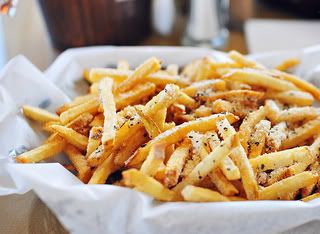 Not really, but we will have to be careful. Paula Dean is right - everything is better deep fried. There's just no way around it. All of us children of the 60's through the 80's grew up on fried food, it's ingrained into us. It's part of our cellular memory. (I just made that up, but it does sound good.)

So that's the news today. Am going to have to think of something that isn't fried to eat tomorrow!