If pressed to name a favorite tree, I'd start with a list of maybe 6 - the thread leaf Japanese maple, ginkgo, and burr oak come immediately to mind. But my absolute favorite, all time and forever, would have to be the redbud.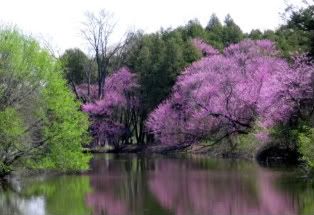 sallyann53, photobucket
Right after the snow melts and spring is creaking forward, these visions of pinky purple flower. And oh, what a showing it is! Thousands of flowers festooning all of the branches, even the trunk, no room for anything else!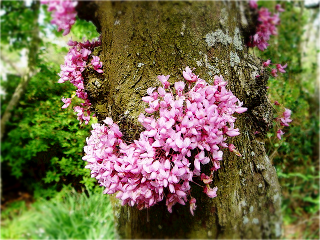 Drive along the highway in Ohio, in a more rural area, and small redbud starts are everywhere. In the forests, red buds make up the lower canopy, shining brightly against the beeches and maples. The forests become a symphony of purple.
And what delicate flowers! Look closely, and you'll see a tree that seems to be made up of millions of tiny orchids. One of God's greater triumphs.
And unlike most flowering trees, where the show ends with the end of the flowers, the redbud doesn't end there. For it's at this point that it unfurls its leaves in the form of perfect green hearts. What could be more perfect?
I love redbud trees.